Bhairavgad Fort Trek
Bhairavgad Fort trek has something different to offer you. In Maharashtra, there are 6 Bhairavgad Forts located at different locations. Out of them one is Moroshicha Bhairavgad. Moroshi is a small village located very close to Malshej Ghat. It is situated at an altitude of 3756 ft from sea level. The trek takes you through lush green forests and steep rocks, making it an ideal destination for nature lovers and adventure enthusiasts
Bhairavgad is located at the base village of Moroshi. Moroshicha Bhairavgad is considered to be one of the most challenging treks in Maharashtra. It is perfect for thrill seekers looking for some adrenaline-pumping adventures in Sahyadri. There is no doubt, this trek will leave you with unforgettable memories
Pro Tip: Feel free to let me know if you want the contact information of a local guide in the comment section.
History Of Bhairavgad Fort :  
This fort is not mentioned much in history. But history of Bhairavgad is mentioned in James Graunt's book 'History Of Marathas' published in 1863.
Bhairavgad Fort was built by the Rajas of Panhala and it was used by Marathas. Later in 1818 the fort was captured by british. While climbing the fort you will get to see broken steps. This was destroyed by the British. Almost all the steps on the fort are in a broken condition. So be careful while climbing.
However, the construction of this fort suggests that it should only be used for observations. It was used to monitor Kalyan-Junnar and Naneghat-Jivdhan trade routes. It was used to keep an eye on this routes.
Trek Route To Bhairavgad :
While passing through Malshej Ghat, you will come across a village called Moroshi. There is dhaba called Bhairavnath which is located on the left side of the road. If you are coming from the Kalyan then it will on your right.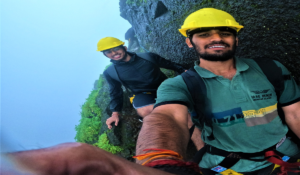 Trek to Bhairavgad starts from this point. You can have tea and breakfast at this dhaba. It takes roughly 2-3 hours to reach the top of the fort from this point. Trek route can be divide into three parts. First one is through dense forest, second one is through plane area. Once these two patches have been completed, the final step is climbing. Up to this point you can reach without the help of equipment.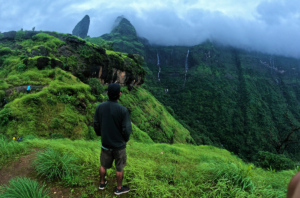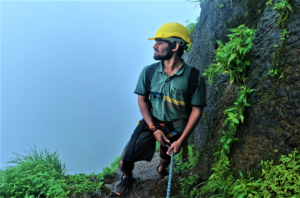 Difficult Patch :
Performing further climb without the proper gear is extremely difficult and very risky . After climbing a few steps, there is a cave. This cave has enough space for 20-25 people. 20-25 people can fit comfortably in this cave. You can also take rest here if you want. After passing this cave, again you have to climb steps which leads to overhang patch.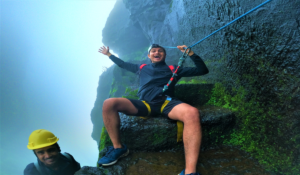 This is the most difficult part of this trek. A trek like this will give you breathtaking experience you'll never forget. But Keep in mind no one should attempt to cross this overhang patch without equipment and guidance. After crossing this patch, one has to climb 30-40 steps. These steps take to the top of the fort. In order to cross this patch, one must take care because there is a deep ravine on one side of the patch, which is also a bit slippery.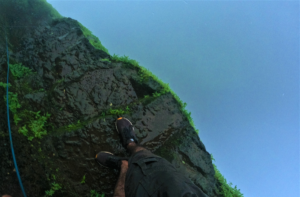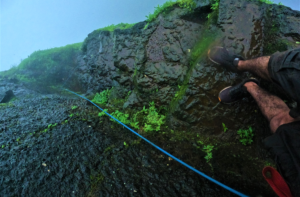 The view from the top will surely amaze you as soon as you reach. The summit offers panoramic views of the Malshej Ghats, Naneghat-Jivdhan, and other forts such as Harishchandragad and Ajoba.
My experience :
I have done many treks so far. From my experience, I found the trek to Bhairavgad a bit difficult. The trek route is very slippery and some patches will give challenge to your fitness. You will undoubtedly have an unforgettable experience on this trek. This experience you will never forget in your whole life. Do this once in a lifetime. You will have a unique experience that you have never experienced before.
Pro Tip: No one should attempt it without proper gear.
How To Reach Bhairavgad:
By Road :
There are a lot of buses available to reach Malshej Ghat. There are regular buses running between Kalyan-Ahmednagar, as well as Ahmednagar-Kalyan, operated by MSRTC. You have to catch the bus running between this route. Malshej Ghat is located in the Pune district and very close to the border of Thane in the state of Maharashtra. It is at a distance of 125 Km from Pune, 104 Km from Thane, and 125 Km from Ahmednagar. If you are coming from Mumbai you can take a bus going to Ahmednagar via Kalyan.
I would like to suggest you, come here with your own vehicle. It will be easy for you to explore the surrounding areas as well. And one more important thing is that after 6 pm chances of getting a bus from here are very low.
Pro Tip : It will be good if you come with your own vehicle. Be sure not to rely entirely on the bus. As the buses are not running on the time that we want.
By Train :
You have to catch the train to Kalyan or Thane. From Kalyan station about 5 to 10 min. of walking distance you will get Kalyan bus stand. From the bus stand you have to take a bus going to Malshej Ghat. This bus will directly drop you to your location. 
Best T

ime To Visit :
Monsoon and winter are the best time for trekking to Bhairavgad. Also, it is very important to take care while climbing. Keep in mind that in the monsoon, the steps become slippery. By taking  precautions we can climb easily. There are no words to describe the experience you'll have on this trek.
It is essential that you have the necessary equipment and guides with you. Let me know in the comment section if you want the contact information of a local guide. Otherwise you can directly dm me on Instagram. I'll give you contact details. He will arrange everything for you. 
FAQ :
1.Where is Bhairavgad fort located in Maharashtra ?
Ans. Bhairavgad Fort is located very close to Malshej Ghat in the state of Maharashtra. Bhairavgad is located at the base village of Moroshi. 
2.How much time does it take to climb Bhairavgad?
Ans. It will take 2:30 to 3 hours to reach at the top of the fort.
3. Is Bhairavgad Trek difficult ?
Ans. Trek to Bhairavgad is considered one of the toughest treks in Sahyadri. The number of treks I've done so far. From my experience I found the trek to Bhairavgad a bit challenging. The trek route is very slippery, and some patches will test your fitness. 
4. Are there any local guides you can recommend?
Ans. If you need contact details, feel free to ask me. Let me know in the comment box. otherwise you can directly Dm me on Instagram.
5.How much does it cost to trek Bhairavgad (Moroshi)?
Ans. It will cost you only 800 Rupees. This price includes breakfast, tea, lunch, equipment, and a guide.
6.Who built Bhairavgad Fort?
Ans. Built by the Rajas of Panhala.
7.How Many Bhairavgad are there ?
Ans. Maharashtra has six Bhairavgad Forts located throughout the state. One of them is Moroshicha Bhairavgad. Moroshi is a small village located very close to Malshej Ghat. In terms of altitude, it is 3756 feet above sea level.
Also Read About